Ice Climbing - Beginner Private Instruction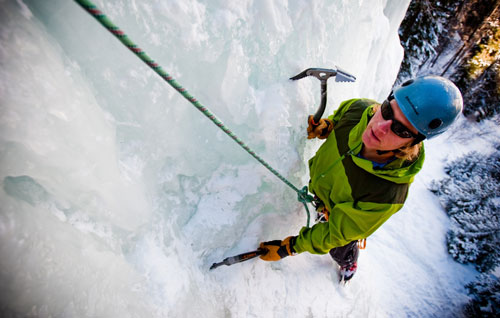 Duration: 7 Hours (approx.)
Location: Avon, CO
Beginner Ice climbing in Vail, Colorado. Snow and ice-covered peaks, ease of access and a multitude of challenge levels provides the perfect recipe for frozen ice waterfalls and the quintessential setting for your first time on the ice. Ice climbing is an exciting experience that will both take your breath away and empower you in the same moment. It's an adventure, an adrenaline rush and a moving meditation all in one.
Over the years, Apex has welcomed thousands of individuals, families and groups to the Colorado Mountains, many of them beginners. Come see why clients from Breckenridge and beyond choose Apex for their introduction to the sport of ice climbing.
This beginner Vail, Colorado ice climbing course is a great beginner introduction to the basics of ice climbing. After an orientation, we'll warm up with some easier climbing on low-angle ice, developing fundamental skills before moving up to steeper ice, and even intermediate ice climbing if it suits your group.
Topics may include:
Mountaineering basics
Beginner knots
Knowing your gear
Proper ice tool use
Crampon technique, in both French (or flat-footed) and front-pointing methods
Voice commands, belaying and lowering
Fundamental ice climbing technique
Rappelling
Glissading
Our ice climbing clients range from 8 to 76 years old, and range in ability from beginner to advanced. A private guide, and all the technical ice climbing gear you will need (ice tools, crampons, ice climbing boots, belay equipment, ropes, helmets and harnesses) are included.
Private ice climbing courses are offered daily, or select one of our beginner ice climbing, open enrollment courses listed at the top of the page. Our beginner private ice courses may also be customized to fit your goals. If you have something different in mind, let us know what you want the trip to look like and we'll accommodate!