Rock Climbing - Joshua Tree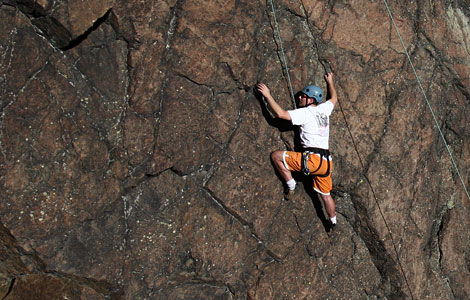 Duration: 7 Days (approx.)
Location: Joshua Tree, CA
With over 4000 routes, it would take a lifetime to make a dent in this rock climbing wonderland. Joshua Tree is known the world over for some of the best quality crack and face climbs on earth. Five star multi-pitch climbs within shouting distance of park camping areas, other routes a mere 5-10 minute walk from the car and unforgettable sunsets make this park an annual ritual for many climbers.

Our Joshua Tree climbing outings are tailored to your experience level and goals, and can be single-pitch or multi-pitch oriented. Learn to place and remove gear, construct anchors and multi-pitch with efficiency, or just climb to your hearts desire. For a special outing, schedule during a full moon and do an evening climb, complete with sunset from the top of a formation and a moonlight descent.

All age, ability, and fitness levels welcome. No experience necessary. Apex provides all technical rock climbing gear (helmet, harness, rock climbing shoes, belay device, etc.) for your outing.